Mo•bile: able to move or be moved freely or easily
At a concert and need to check your cash flow? Maybe you're traveling, or moving out of town? When mobile banking goes with you everywhere, there's no need to move your banking.
Our mobile banking app gives you instant access to a team of Cornerstone representatives, and allows you to manage your accounts, make transfers, deposit checks, find ATMs and more, anytime 24/7.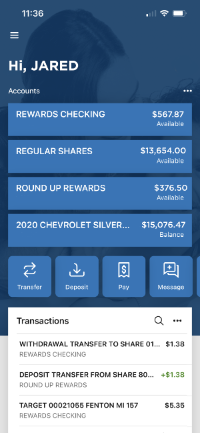 Features:
Start a Conversation: Have a question about your account? Send us a secure message within your app. It's just like texting a friend. 
Facial Recognition, Touch ID or PIN authentication: Log in easily and securely using your fingerprint or a personal identification number. Or, if your phone allows, log in via facial recognition. 
View balances and account activity: Search for transactions, add a note or an image, or filter by tags. Understand your activity and find what you're looking for — fast.
Card activation controls: Was your debit or credit card lost or stolen? Quickly and easily block your card while it's gone (then turn it back on when you find it in the laundry).
Mobile bill payment: Never miss a payment again! Use bill pay to make quick and secure automatic payments.
Make mobile deposits using your camera: Deposit checks into qualified accounts using the mobile remote deposit feature.
Personalize your app: Arrange the app's features in a way that makes the most sense to you — customize the app on your device and move things around however you like.

Security: Know your information is secure, because we don't ever store your personal data on your device. 

Phew! That was a lot to get through — but now you know why you should download it below, ASAP. 
Get started with Mobile Banking:
Sign up for online banking (You can enroll here). If you're already an active online banking user, you can use the same username and password to set up mobile banking.

Download Cornerstone's mobile banking app for your iPhone® or Android™.
    3. Use your online banking username and password to log in.
    4. Enjoy Cornerstone banking at your fingertips!