Refer-a-Friend FAQs
Who can I refer?
Cornerstone is a community credit union, so anyone within the state of Michigan or within the following Ohio counties is eligible for membership:
Fulton
Henry
Lucas
Ottawa
Sandusky
Wood
Can I refer an immediate family member?
Yes! As long as the individual qualifies for membership, you can refer them.
How do I send referral invitations?
Register by filling out the form on the Referral Program page to get started. Provide contact information AND a valid email address for the friends or family members you would like to refer OR share the offer via social media. Your friends will receive an email notification containing registration instructions and offer requirements.
How many members can I refer each year?

There is no limit to the number of referrals for which a member can be paid. 
When will my gift card arrive?
Once your referred friend or family member opens their account and qualifies, your $50 gift card will arrive within 4-6 weeks. 
How do you know who I've referred?
You send out texts, emails or social posts with your referral link. Once your friend registers for the referral offer using your personal referral link and completes an offer listed below, you will each receive a Visa® Reward Card.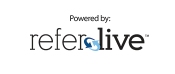 ReferLive is a trademark of CustomerStream, LLC.